Small Carousel Hire
At John Biddall Leisure we specialise in small carousel hire services for fairgrounds, funfairs and all outdoor events across the UK. With years of experience working alongside many popular funfair events in the country, we know exactly how to provide endless enjoyment and fun for all to enjoy. Our small carousel hire service will allow you to attract a long line of excited attendees to your event and put smiles on the faces of all who take part. Whether you are looking to host a birthday party or a huge funfair, we will provide your guests with an unforgettable experience.
Carousels or Merry-Go-Rounds are one of the most iconic fairground rides in existent. This prevalent ride is popular for both children and adults, but not all locations allow for a full-size Carousel, at John Biddall Leisure we offer a Small Carousel Hire to fit your location with a bit more ease. If you are looking for a smaller beautifully presented Carousel Hire, contact us today. Many events can be dampened when a location is not fees-able or accessible, at John Biddall Leisure, we will visit you and assess your location. Small Carousel Hire may make your event a lot more do-able. We want to assist you in ensuring that your event is cost effective and provide you with our services in the most efficient way possible.
Parties, Funfairs, Events
We also offer smaller sized carousels for hire, that can be a perfect addition for a kid's party, a corporate event, a wedding, or a family fun day. We take pride in our small carousels as they have been refurbished many times, to comply with the modern-day safety procedures, however, they have still remained present to their vintage feel and nostalgic look. Our carousels have been loved by our past customers, and are a great attraction to have, no matter the event due to the fact they are so instantly recognisable and timeless; you will always have visitors coming back for more rides! So, if you are looking for a reliable and trustworthy carousel hire company, there is no need for you to look any further. Pick up the phone and give us a call today to get a quote on small carousel hire, or any other amusement attraction we have available to hire.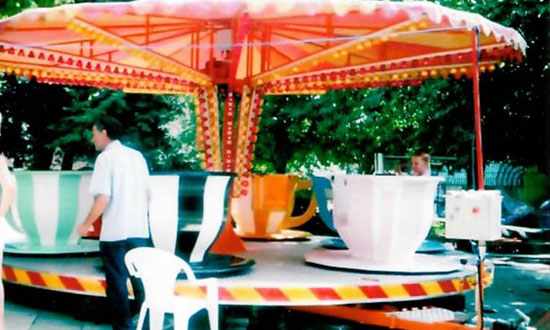 Tea Cups
Spin round and round on this gentle little tea cup roundabout ride. The cars are shaped like tea cups on saucers and they spin round a giant teapot.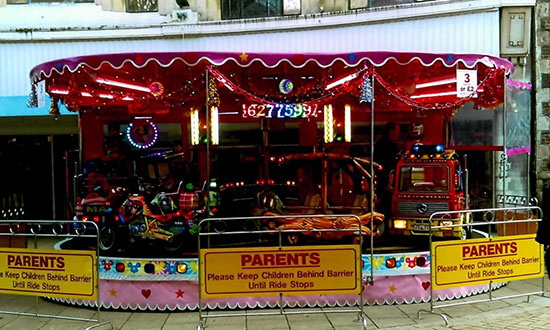 Kiddies Car Ride
Kids are driven round on this fun filled ride, it's great to see how they smile and wave at the their parents as they come round again and again.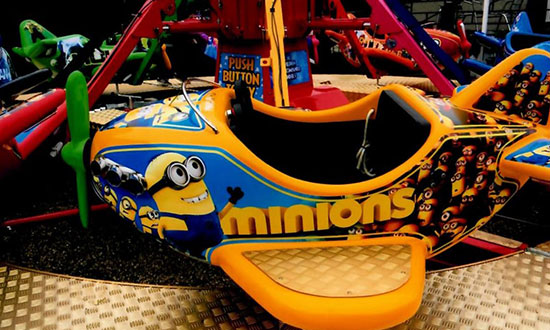 Flying Planes
Fly through the sky, round and round and up and down on these brilliant flying planes for children.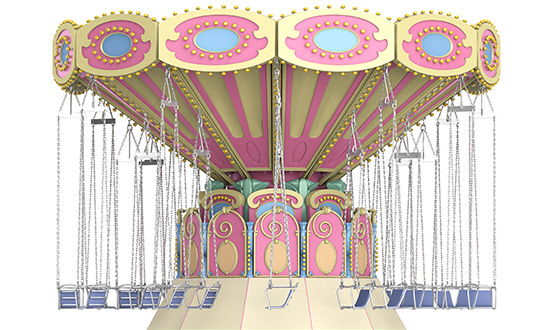 Chair-O-Planes
Children can swing with joy on this classic kiddie pleaser.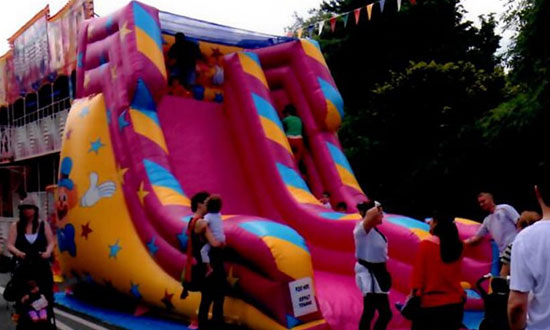 Inflatable Slide
Climb up the side stairs to the top of this blow up attraction and shoot down the colourful slide. It's a great feeling to slide down one of these, different sizes are available.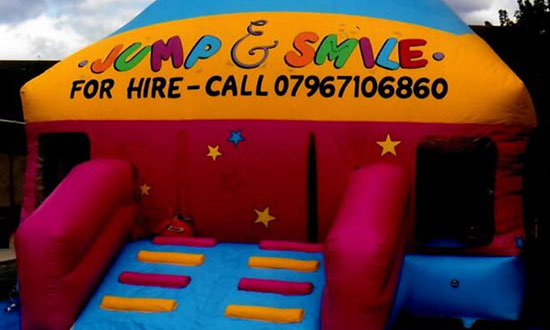 Bouncy Castle
Jump up and down and bounce around on the classic fun filled bouncy castle inflatable. We have different sizes and designs at our different depots throughout the UK, so can provide the best one to suit your ground size and price band.
Helter Skelter
Slide down and round this famous fairground attraction. The fun slide, known as the helter skelter, provides a real focal point to any event it attends and always brings a smile to it's riders.